Now playing :
AMAZON.COM talks to PATRICIA ROWE
---
Amazon.com:
How did you begin writing? Did you intend to become an author, or do you have a specific reason for writing each book?
Rowe: Always an avid reader, I wrote poetry, essays and journals, but was too much in awe of novelists to ever think of becoming one. Until the night I had a compelling dream of a young woman living in a long-ago time. As the leader of her people, she faced all kinds of terrors, loved a man she was forbidden to have, and ... I was hooked! I wrote a chapter, and sat trembling as my husband read. He said, "Please keep writing. I want to know what happens."


While doing research, I came upon a petroglyph called She Who Watches, and a traditional story saying she was once chief of her tribe, and I realized I'd been writing about someone who was real, at least in legend. Ashan's story became KEEPERS OF THE MISTY TIME. The Moonkeeper and her people had more to tell, so I continued the story in CHILDREN OF THE DAWN.
Amazon.com:
What authors do you like to read? What book or books have had a strong influence on you or your writing?
Rowe: I read and love all kinds of books. Influential authors include John Steinbeck, Ernest Hemingway, James Michener, Leon Uris, Jean M. Auel, Pat Conroy, Stephen King, Alice Hoffman and Barbara Bickmore.
Amazon.com:
Could you describe the mundane details of writing?
Rowe: I spend about six early-morning hours writing at my computer, with a black cat in my lap and a golden collie at my feet. The door is closed, the windows open (Oregon weather permitting) to oak woods, country air, and the sound of a waterfall.
Amazon.com:
Do you meet your readers at book signings? Do you interact with your readers through e-mail?
Rowe: I love to meet readers at booksignings, and talk with them via e-mail--one of the great innovations of modern times!
Amazon.com:
When did you get started on the Internet?
Rowe: I logged on in February, 1996, and now I can't imagine a life without it. I talk with family, fans and writers by e-mail, and subscribe to two mailing lists for writers. The Net is a great research tool--from unearthing an obscure historical fact hidden in a library a thousand miles away, to checking out the weather on an August day in SouthernWashington, where my next novel takes place.
Amazon.com:
Feel free to use this space to write about whatever you wish: your family, pets, what books you'd take to a desert island, what you intend to do before you die, or what you think of just about anything.
Rowe: I can never talk about myself without mentioning my husband, the most supportive mate any writer ever had. I'm a lucky woman to have found this guy 26 years ago. Other joys are two daughters and six grandkids; our five-acre woodland and the home we built overlooking Oregon's Willamette Valley. And I do love my job, with its casual dress code. No driving to work on a foggy morning. I just walk upstairs, close the door, and begin my day's work of creating fiction, passing on to others the gift that authors have been giving me all my life. Surrounded by my collection of Native American art, I settle into a leather chair, sip steaming espresso, and type, "What if..."

To a desert island, I would take the Bible, Rodale's "Synonym Finder," Michener's "The Source," King's "The Stand," and the novels of Patricia Rowe <g>. And pencils and a big box of paper.

In answer to your final question, before I die, I intend to LIVE!
---

---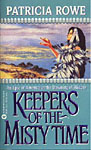 Click image for book description and reviews

---
The author is a member of

---
© 1997 ~ Website Design by Rowe Communications ~ www.roweweb.com ~ email patricia@roweweb.com